Youcan 3 axles Dropside Semi Trailer For Sale
What is a
Youcan
Dropside
S
emi-trailer
A dropside semi trailer is mainly used in logistics systems supporting ships, ports, routes, highways, transfer stations, bridges, tunnels, and multimodal transport. Youcan can provide different configurations of side wall trailers to meet different needs.
The customer who purchased our 3 axles dropside semi trailer was introduced by one of our old customers. He saw her friend using our Fudeng semi trailer and his friend told him our semi trailer is really good. So he asked his friend for the contact information of our company's sales manager, Through communication, our sales manager learned about the needs of this customer and recommended him the configuration of the most suitable 3 axles dropside semi trailer. The customer was very satisfied after reading the configuration table and quotation we gave, and communicated with his family. After that, the deposit was paid to us immediately.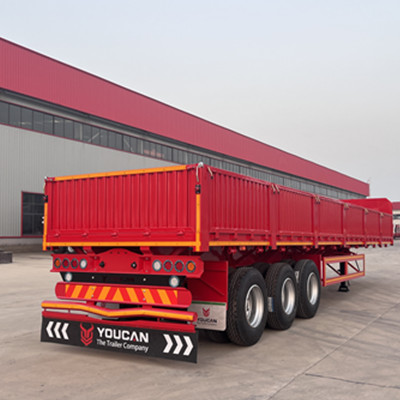 The 3 axles dropside semi trailer is the most common semi trailer. Since there are 60cm detachable railings and optional container locks, the container can be transported after the railings are removed, so it has a wide range of uses and is mainly suitable for medium and long-distance transportation of medium-heavy and bulk goods. It has strong applicability and has become a medium- and long-distance Freight vehicle of choice.
The other is about our shipping problem. If a customer buys 3 units semi trailers at one time, this is the most economical and cheapest way of shipping. We will start by stacking three semi trailers, and after our calculations, 3 If two semi-trailers are stacked together for departure, it can save about 1,500 US dollars.
This semi-trailer design has many advantages and features. If you want to know more information, please feel free to contact us.