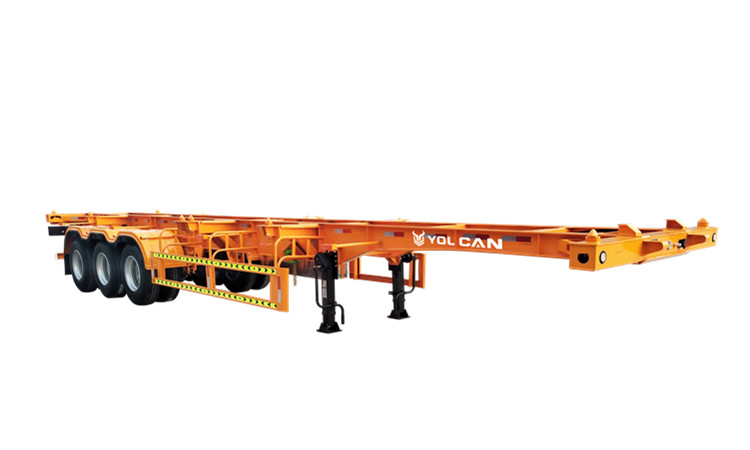 The Yuchang container chassis for all common container types can be precisely customised to meet your transport requirements.
What is a Container Chassis semi-trailer?
Container chassis is also called skeletal trailer, is a type of semi-trailer designed to securely transport an intermodal container. Chassis are used by truckers to deliver containers between ports, railyards, container depots, and shipper facilities. 
One of the challenges of using containers in transportation is that the containers come in different size. Hence, some containers require special vehicles for transportation because of their dimensions.
Companies require a transport solution that can adopt to different sizes and types of containers. In addition, many states have implemented bridging laws, which define the distance between the rear and front wheels of heavy-duty vehicles.
Container chassis trailer are designed to overcome these challenges.
Why the Container Chassis Trailer?
The need for a truck chassis capable of taking high weight containers without loading and offloading issues prompted such a design. This is what you will be going for if you have such needs.
Again, the container chassis trailer provides you with the option of taking high weight container while at the same time giving you options to make adjustments to desirable maneuverability.
This type of trailer is a simple yet strong and is capable to serve you even in rugged topography.
One defining characteristic of the chassis trailer is the fact that it can transport different sizes of containers such as the 45ft, 40ft and the 20ft long containers.
2.2 Key Advantages of the Chassis Trailer
It is a cheap and affordable construction
It is a light and solidly firm structure
It uses fewer material and yet carries heavy cargo
It is built from high strength structural material making it a rigid construction, good for its application
The chassis trailer for your container is available in different models. You can choose what matches your needs because the functions are the same.
It is commonly used for container transportation
2.3 Common Chassis
This is a fixed structure commonly used in the transportation of containers. It is mainly of a steel construction where containers are loaded and offloaded using overhead cranes.
It has a landing gear that is used to enhance stability during loading and offloading operations.
It can be used for loading and transporting 20ft, 40ft and 45ft container. With well-marked positions, you can load your container and move it to your desired destination with ease.
It is simple to use and most importantly, affordable. However, the need for external accessories could possibly delay the operations.
2.4 Load Positioning Chassis
Trailer has a long chassis that is supported to one end through a movable bogie unit or a slider with an attached sliding bolster unit
It comes with retractable roller mechanisms on the said bogie unit and the bolster unit urged against the trailer chassis. This allows easy placement of a unit at a suitable position along the trailer chassis
It also comes with a releasable coupling in between bolster and the slider to allow the bolster to travel along the chassis through the slider
Applications and Features of Container Chassis semi-trailers
Container transportation is a relatively advanced transportation method in cargo transportation. It can be combined with various transportation methods such as railway, waterway, road, and air to carry out multimodal transportation. It is developing in the direction of large-scale, informatization and multi-type. With the development of the container transportation industry, some advanced container terminal machinery and equipment came into being.
Size
The Container chassis for all common container types, such as 20fts, 40fts and 45fts, can be precisely customised to match your fleet requirements . Our modular system enables you to easily combine the container trailer's chassis, extensions, container locking mechanisms and equipment details as required.
Container Chassis semi-trailer Supplier
Yuchang Trailer was founded in 1999. Rich experiences of producing Container Chassis semi-trailers ,precisely tailored to your fleet requirements.
The company specialized in providing aluminum tankers, fuel tankers, bulk cement tankers, dumper trailers,tipper trailers, stake/sidewall trailers, flatbed trailers, low-bed trailers, container carrier trailers, cargo trailers, and other hundreds of products with 23 Years of experiences. Feel free to contact us for latest price of new semi-trailers. Competitive price with reliable quality waiting for you!