Youcan U Shape Dump Semi Trailer
What is a dump truck trailer
?
According to the product requirements for the users who transport solid aggregate, coal, earthmoving, asphalt, wheat and similar bulk cargoes to the highways, we offer a wide selection of tippers that challenge the most demanding conditions on the truck and trailer product line, which provides great convenience and practicality during unloading. The low centre of gravity of the trailer gives it improved road handling combined with excellent tipping stability.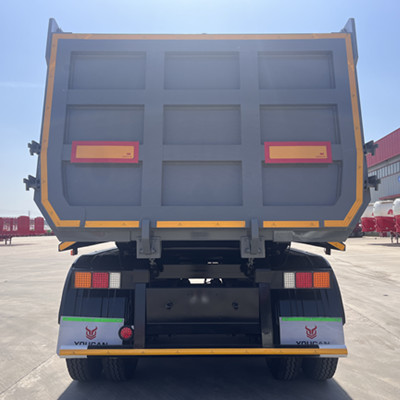 Youcan dump tipper trailers have different load capacities: 24 cubics, 30 cubics, 35 cubics, 45 cubics, We can customize the tipper trailers according to your special need, like standard tipper semi trailer, U-shape tip trailer, flatbed container tipper trailer, skeleton dumper trailer, side dump truck trailers.
Product Description:
Youcan dump trailers adopt high strength steel to make it durable when load the sand or small stones or rocks. And the loading capacity are 40t, 60t, 80t.
Youcan Tippers equipped with reliable hydraulic HYVA cylinder. We can customize the tipper trailers according to your special need, like U shape dump, end dump, side tipper, and container tippers including skeleton and flatbeds trailers.
We use well-known brand axles, FUWA, BPW. It's with high performance, and reliable to use.
Advantage:
1. Double-plate main beam for heavy-duty dump trailer, which have stronger carrying capacity, it is not easy to damage.
2. Hydraulic cylinder: The heavy-duty cylinder with a wider diameter, stronger lifting capacity and higher height, which makes the lifting more stable and does not easy to roll over.
3. with 4 units vice beam and cross balance beam. The lattice structure of the side door makes the side door more solid.
4. Flip Bracket: 4 units flip brackets, which can make the rear end more evenly loaded during unloading, and it is not easy to damage the trailer.
5. The leaf spring is widened and thickened, the shock absorption effect is good.
6. Strengthened Ribs, unique structure design to maximize the payload.
Dump truck trailer Supplier
YOUCAN trailer is a professional truck trailer manufacturer providing complete trailer solutions for almost all types of trailers on different applications. The company specialized in providing aluminum tankers, fuel tankers, bulk cement tankers, dumper trailers,tipper trailers, stake/sidewall trailers, flatbed trailers, low-bed trailers, container carrier trailers, cargo trailers, and other hundreds of products. Feel free to contact us for latest price of new semi-trailers. Competitive price with reliable quality waiting for you!