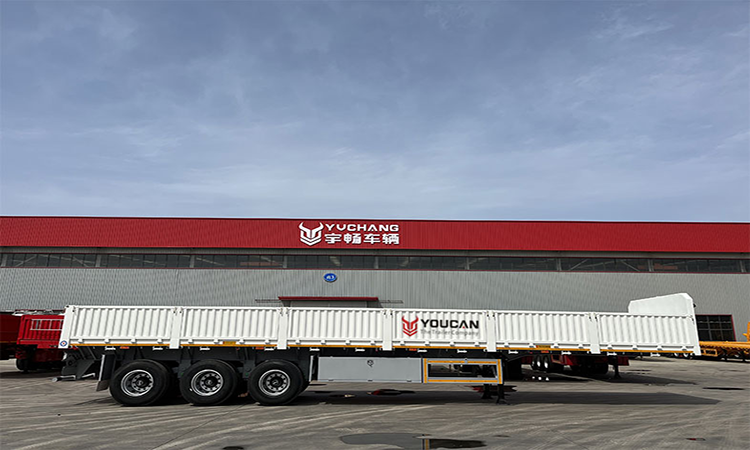 The Youcan Fence semi-trailer with flexible and load securing options can be precisely customised to match your transport business.
Overview of Youcan Fence Semi-trailer
A fence semi trailer is mainly used in logistics systems supporting ships, ports, routes, highways, transfer stations, bridges, tunnels, and multimodal transport.
Youcan can provide different configurations of side wall trailers to meet different needs.
Fence Semi-trailer features
1. Fence cargo trailer's overall body is made of high quality steel, advanced technology, strict production process, reliable performance and reasonable structure.
2. Cross beam structure, the longitudinal beam can generally choose straight beam or gooseneck beam.
3. Suspension adopts non-vertical steel plate pressed rigid suspension, made of tandem leaf springs and suspension bearings, with reasonable structure, high rigidity and strength, used to support the load to mitigate the impact.
Fence Semi-trailer application
A fence semi trailer is generally used to transport bulk cargo. It is mainly used for long-distance transportation. Generally, Platform trailer can transport 30-80 tons.
If it is a large amount of transportation or different needs, we can customize it, or platform trailer some deformed vehicles.
Fence Semi-trailer Supplier
The Youcan Trailer was founded in 1999, with rich experiences of producing semi-trailers and providing complete trailer solutions for different applications.
The company specialized in providing aluminum tankers, fuel tankers, bulk cement tankers, dumper trailers,tipper trailers, stake/sidewall trailers, flatbed trailers, low-bed trailers, container carrier trailers, cargo trailers, and other hundreds of products with 23 Years of experiences.
Feel free to contact us for latest price of new semi-trailers. Competitive price with reliable quality waiting for you!