What is a low bed trailer
Applications and advantages of low bed trailers
application
Low bed trailers for transporting heavy cargo are different industries. Below are the most common uses for heavy trailers.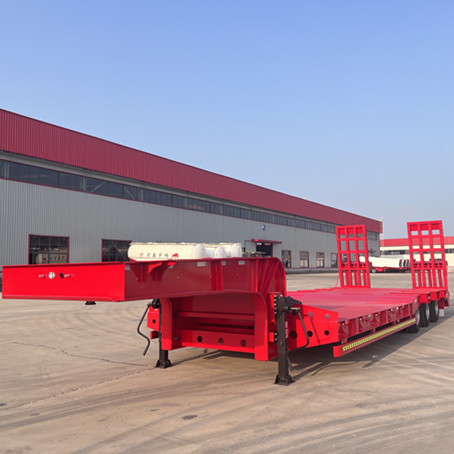 Heavy Vehicles: Vehicle manufacturers use low-floor trailers to transport heavy vehicles from one showroom to another. Transporters are used to transport vehicles from the port to the showroom and sometimes to the customer.
Some of the heavy-duty vehicles transported by low-bed trailers include buses, tractors, and specialty vehicles. Low bed trailers can transport stacks of smaller vehicles at once.
Railway Vehicles: There are different categories of railway vehicles, including road railway vehicles, freight cars, locomotives and railway coaches, etc.
The common characteristic of these vehicles is that they are heavy and bulky. Low bed trailers are one of the best ways to transport rail vehicles.
Mining Machinery: Mining requires heavy machinery to drill and transport materials including crude oil and minerals. Machines are assembled off-site and transported to the mine using low-bed trailers.
Due to the structure of mining machinery, heavy transport vehicles are preferred. Mining equipment is probably the heaviest cargo a machinery manufacturer transports on the road.
Forestry Machinery: Heavy machinery is also used in forestry. Heavy equipment is required to cut and transport logs. Sometimes logs are processed on-site into lumber and other by-products before shipping the product.
Machines are built or imported in the assembly shop before being transported to the forest. A low bed trailer is used to move forestry machinery from the assembly to the forest.
The wheels of the trailer can navigate the rough terrain of the forest. Low-bed trailers are also used to move forestry machinery from one forest to another or back to the assembly hall after a project is complete.
Agricultural Machinery: Agriculture is another area where heavy machinery is used. This machine is mainly used for large-scale farming. Such a large farm is far from town.
The main agricultural machinery transported by low bed trailers includes loaders, excavators, bulldozers, cranes and pavers. Heavy-duty trailers can navigate muddy farms and move machinery from farm to farm.
Construction: Low bed trailers are also used in the construction industry. Heavy vehicles are often used in the construction of roads and bridges.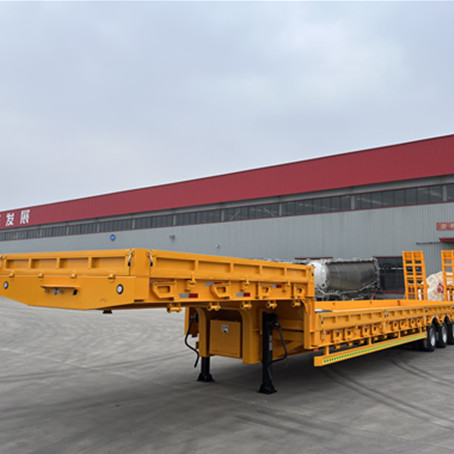 Advantages of low bed trailers
Low bed trailers are widely used in different fields because of their advantages over other heavy transporters. The main advantages are outlined below.
Stablize
The deck of the Lowboys is excellent compared to other heavy haulers. A low deck means a low center of gravity. Therefore, low bed trainers are more stable than trailers when transporting heavy loads.
One way to increase stability is to expand the support base. This is possible with low bed trailers because the freighter width can be widened. The trailer remains stable on the road regardless of the height and weight of the cargo.
Safety
Low bed trailers are designed to carry heavy loads. The trailer is made of high-strength materials and can withstand up to 700mpa of pressure.
How much do lowbed semi-trailer cost?
Youcan Trailer is a professional semi-trailer manufacturer founded in the year 1999. The company provides tank trailers, bulk cement semi-trailers, Tipper semi-trailers, stake storage semi-trailers, flatbed semi-trailers, lowbed semi-trailers, container carrier trailers, cargo semi-trailers, and other hundreds of products.If you are interested in buying a Container Chassis for you project, feel free to send an inquiry.