Lowbed trailer for sale in Nigeria
What is a Lowbed trailer
The Youcan Trailer was founded in 1999. Rich experiences of producing Lowbed trailers for all types of mechanical equipment, road construction equipment precisely tailored to your fleet requirements. The low centre of gravity of the trailer gives it improved road handling combined with excellent stability.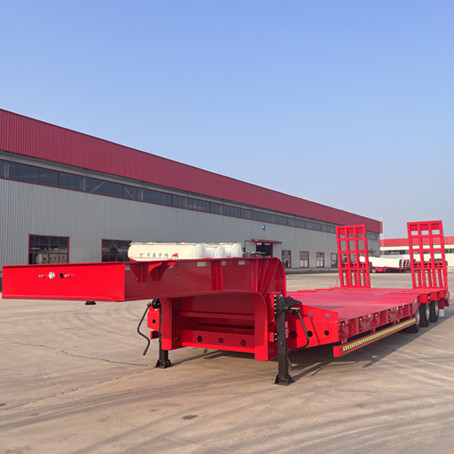 Features of Youcan Lowbed trailers
1.CAE and Hypermesh software were used for multiple finite element analysis and verification to optimize the structure of the vehicle and its components.
2. The Youcan Flatbed is automatically welded by an advanced large-scale special welding machine. Ensure the safety of the trailer and increase the service life.
3. The metal surfaces of the vehicle after the welding process is cleaned with sand shot blasting process with grit metal.In order to protect the surfaces from rusting on the top of the surfaces with 2 coats of epoxy primer and acrylic finished paint will be RAL9003 or will on customer demand. The total thickness of the paint work is 120micron.
4. Performance needs source -Durable body structure, superior production technology and premium equipment, turn into long lifetime income.
Tri axle lowboy trailers for sale are used in different industries: heavy vehicles, rail vehicles, mining machinery, forestry machinery, construction, agricultural, etc, We can customize the triple axle lowboy trailer for you according to your needs.
The main beam of TITAN 60 ton lowboy trailer for sale is made of Q460C high strength structural steel. Q460C steel has a yield strength of ≥620Mpa, which is more durable and stronger than ordinary steel. Its bearing capacity is 5 times that of the lowboy trailer made of Q345 steel.
Advantages of Youcan 3 axle lowbed trailer
1. Main Beam
Youcan 3 axle lowbed trailer for sale main baem adopts a height of 500mm and a thickness of 14mm. The thickness of upper plate is 22mm, the thickness of lower plate is 22mm and the width of upper and lower plate is 220mm.
Other factories use Q345 steel main beam for the 55 ton lowbed for sale. The width of the upper and lower plates is 140mm. The load-bearing capacity of the frame is 27% lower than that of Youcan.
2. Side Beam
The side beam adopts "H" shape design and is welded with T700 high strength steel and it is designed H shape with a height of 300mm, width of 140mm and thickness of 8mm. Its bearing capacity is twice that of other steel, and it will not deform after ten years of use. Anti - turbulence ability increased about 3 times.
3. Side support
The beam design, our side support beam use Q460C high strength structural steel. The thickness is 6mm, and the inclined support is Q460C with a thickness of 6mm. Effectively connect the main beam and side beam together as a whole. Bearing capacity anti - turbulence capacity greatly increased, the service life more than 10 years.
All trapezoidal scales for the whole 60 ton lowbed trailer for sale, G-type scales (higher strength than ordinary C-type scales) are used for the vehicle weighing less than 80 tons.
How much do lowbed semi-trailer cost?
Youcan Trailer is a professional semi-trailer manufacturer founded in the year 1999. The company provides tank trailers, bulk cement semi-trailers, Tipper semi-trailers, stake storage semi-trailers, flatbed semi-trailers, lowbed semi-trailers, container carrier trailers, cargo semi-trailers, and other hundreds of products.If you are interested in buying a Container Chassis for you project, feel free to send an inquiry.