What is a dump trailer
What is a dump trailer?
A dump trailer is a large trailer that is usually raised when its hall is dumped at a chosen location. It is similar to a dump truck trailer and is used synonymously to mean the same thing.
Dump trailers will help you to carry and unload bulk cargo in a very easy and efficient manner.
With tipper trailers, they are suitable for use in many fields such as construction, agriculture and the recycling industry. They come in different shapes and types.
There are two types of dump trailers namely: rear dump trailers and side dump trailers.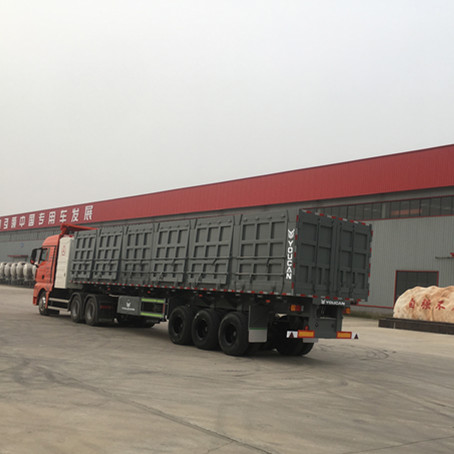 How to use the dump trailer
1. The dump truck can be a rear dump or a side dump. It can effectively improve the transportation efficiency.
2. The chassis and beams of the dump box are made of high-quality manganese steel plates. The shape of the box can be U-shape and rectangle. Our dump trailers have the following advantages: high strength, strong lifting force, good rigidity and toughness, strong bearing capacity, and no permanent deformation.
3. Excellent production technology: the main components are produced by advanced equipment, the longitudinal beam is welded by a fully automatic submerged arc welding machine, and the wheels, axles and leaf springs are assembled precisely.
introduce:
The structure of the engine, chassis, and cab is the same as that of an ordinary truck. The dump box can be tilted backwards or sideways. Rear dump trucks are more common. Push the piston rod to tilt the case. Some two-way hints. High-pressure oil enters the lift cylinder through the distribution valve and hydraulic hose. And there is a safety shield at the front end of the cabin.
The hydraulic tipping system is composed of fuel tank, hydraulic pump, distribution valve, lifting hydraulic cylinder, control valve, hydraulic hose and so on. The engine drives the hydraulic pump through the transmission and the power take-off. By controlling the movement of the piston rod through the control system, the dump box can be stopped at any position. The dump box returns using its own gravity and hydraulic pressure.
Feature:
1. Optimum driving characteristics through low center of gravity and innovative running gear
2. Optimize payload through low self-weight
3. High working speed through high-performance hydraulic system
4. Low-wear MEILLER tipper body with long service life
5. Angular or round tipper body shape available
6. Robust and payload optimized.
7. Especially suitable for short routes and frequent tipping.
8. Designed for abrasive bulk materials such as gravel, rocks, concrete chippings and aggregates.
9. Optimized force transfer on the new chassis frame minimizes crack formation.
10. Custom blanks: Reinforcement of the tipper truck underbody in the rear third, where wear is higher.
How much do dump trailers cost?
Youcan Trailer is a professional semi-trailer manufacturer founded in the year 1999. The company provides tank trailers, bulk cement semi-trailers, Tipper semi-trailers, stake storage semi-trailers, flatbed semi-trailers, low-bed semi-trailers, container carrier trailers, cargo semi-trailers, and other hundreds of products.If you are interested in buying a Container Chassis for you project, feel free to send an inquiry.