Why choose Youcan Tipper Trailer
What is a Tipper Trailer?
A tipper trailer is a big trailer that usually lifts when dumping its hall in a chosen location. It is similar to the dump truck trailer and is used synonymously to mean the same thing.
However, there are small tweaks here and there that make each one of them unique. There are different tipping options but the main ones are the rear and the side tippers.
Tipper trailers will help you to carry and offload bulk goods in a very easy and efficient manner. At the end, your operations will be highly affordable.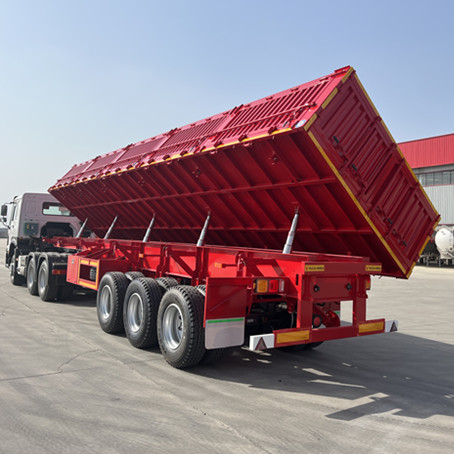 Why choose Youcan Tipper Trailer?
There are four things you need to carefully consider when buying a dump trailer: specifications, quality of spare parts and materials, safety and design.
The Youcan Dump Trailer is a trailer that meets these requirements and helps you get the job done efficiently.
As we all know, dump trailers are commonly used to transport aggregate, sand and asphalt... these rough and abrasive materials require high strength steel plates to prevent crushing and twisting. For this, we used Hardox steel with HBW 500, which is also designed to guarantee operational safety.
The flat floor under the round tank truck helps to lower the center of gravity, which can also greatly increase wear resistance and driving safety.
Youcan dump trailers typically have a loading capacity of 30 to 80 tons. The entire structure is designed to withstand heavy loads and remain stable when driving on rough roads.
Tipper Trailer Options to Consider in Different Applications
Now that you know all the tips to consider when buying, you can more easily choose the most suitable type for your shipping tasks. Now you can choose end dump, bottom dump, side dump, or even pups for efficient transport depending on your specific needs.
In Youcan's production list of dump trucks, you can find loading capacities from light 30 tons to heavy 80 tons. Furthermore, you can customize your dump truck by size or spare parts, and choose from different dump truck materials such as carbon steel, aluminum and stainless steel.
However, it should be noted that each model has its scope of application, and we will provide you with a full service to help you choose the most suitable configuration and ensure compatibility.
Loading capacity
If you are going to be loading larger or more loads, choosing the end dump is the best choice, providing fast discharge speed and convenient hands-free operation.
Also suitable for two difficult materials such as degraded debris. It can resist harsh wear and crushing thanks to the sturdy platform, structure and dump hopper.
Suitable model
There are two factors you need to understand as thoroughly as possible before placing an order. One is the dimensions of your unloading space. This factor determines which model you will choose. As we mentioned above, side dump trailers are good at unloading in smaller spots, while tip-end trailers are better at unloading in wider spots. So be sure to make sure you are unloading the spatial dimension before choosing a model. Also, if you are not sure which one is suitable, welcome to contact us.
Another factor is the size of the cargo. While they are all pieces, some are smaller. In this case, a U-end dump trailer is more suitable for you. It can provide fast and thorough discharge. But if the debris is bigger and heavier, you can never go wrong with a side tipping dump truck.
Stable design
Hydraulic rams give you great power when dumping. This requires better quality cylinders. Make sure the cylinder is from a world famous brand such as HYVA which Youcan uses. This will give you solid support when tackling heavy workloads.
The reason for choosing such a cylinder is that it is more stable when lifting the dump truck. Therefore, it guarantees a stable unloading process as well as operator safety.
Proper trailer structural design is another thing you need to double check. These include designs and welds. If possible, make an appointment at the factory. Check whether the structure of the trailer is compact enough, whether the welds are tightly connected, and there are no obvious seams. It can be said that these are related to your safety and life on the road.
If it is made of high strength material
There are many kinds of steel products on the market, and the quality varies from good to bad. In this case, it is important to choose high-quality products with spirit.
The best quality steel is Hardox steel. Youcan has been building tipper trailers from Hardox steel for over 10 years. The biggest advantage of this material is its high-strength texture. It can be used for more than 7 years. After the polyurethane paint is applied, the whole dump trailer will not break, distort, corrode or rust.