What is a dump semi-trailer
What is a Tipper Trailer?
A tipper trailer is a big trailer that usually lifts when dumping its hall in a chosen location. It is similar to the dump truck trailer and is used synonymously to mean the same thing.
However, there are small tweaks here and there that make each one of them unique. There are different tipping options but the main ones are the rear and the side tippers.
Tipper trailers will help you to carry and offload bulk goods in a very easy and efficient manner. At the end, your operations will be highly affordable.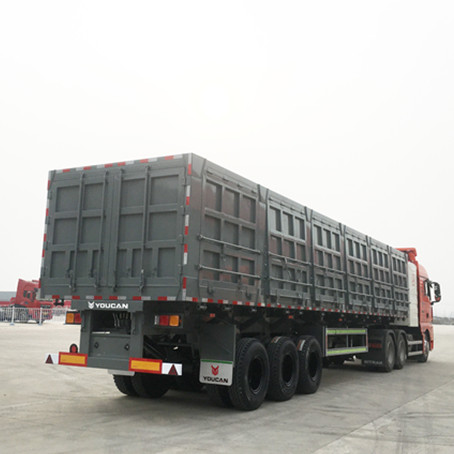 They are become such a wonderful solution especially in handling big jobs. Safety in operations is well taken care of through a well-designed mechanism of offloading your goods.
With tipper trailers, they are applicable in the construction, agriculture and recycling industries among many other areas. They come in different shapes and types. Therefore, you will have variety based on your specific needs and requirements.
The dump truck semi-trailer is a semi-trailer with an automatic dumping device in the loading part, which is suitable for the transportation of bulk and scattered goods such as coal, ore, and building materials.
The rear dump semi-trailer absorbs the advantages of similar models at home and abroad, and is manufactured according to strict production technology, with stable lifting and strong anti-rollover stability. According to the structure of the carriage, it is divided into a rectangular box and a U-shaped box.
1. The carriage adopts side turning, turning and self-unloading mode, which can effectively improve the transportation efficiency of the handling machine for handling bulk and scattered goods.
2. The carriage frame and longitudinal beams are welded with high-quality manganese plates. There are two types of cargo boxes: square and rectangular. It has the characteristics of high strength, strong lifting force, good rigidity and toughness, strong bearing capacity, and no permanent deformation.
3. Excellent workmanship: the main components are processed by advanced equipment, the longitudinal beam is welded by automatic submerged arc welding, and the wheel axle and leaf spring are precisely assembled by assembly machine.