What is a 80 ton Lowbed
Product Description:
YOUCAN 3 axles 80 tons low flatbed trailer is widely used for heavy machinery transportation.
YOUCAN low-bed semi-trailer satisfies concentrated force, anti-turbulence and anti-torsion, and adopts HG60 high-strength steel material. We use it to ensure the long life of our TITAN excavator trailers and avoid unnecessary maintenance.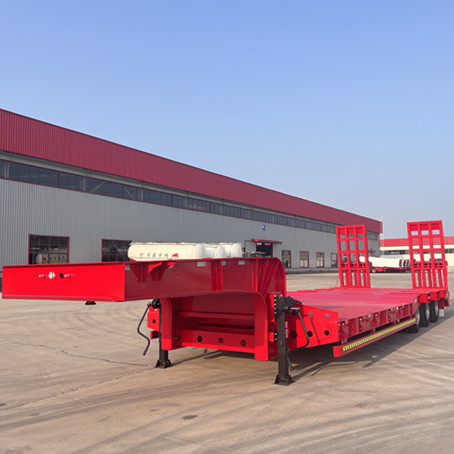 Advantage:
1. The main beam is made of HG high-strength steel, which has high bearing capacity.
2. The side beam adopts "H" steel, and the strong and durable design avoids the deformation of the side beam.
3. The loading ramp is made of high-strength steel, which has a high load-bearing capacity and will not deform when handling heavy equipment.
4. Polyurethane paint, long service life, avoiding rusting of the vehicle.
5. World famous brand spare parts ensure high quality and save cost.
Specification:
Dimensions: 16000mm * 3000mm * 3400mm
Load capacity (T): 40-100T
Axle: 13T/16T, FUWA / BPW / YOUCAN brand
Rim: 8.0-20
Tires: 11.00R20
Suspension: mechanical suspension
Spring sheet: 90(W)mmx13(thickness)mmx10 layers
Kingpin: JOST brand 2.0 or 3.5 inches (bolt or weld type)
Landing gear: JOST brand
Main beam: height: 500mm, upper plate: 20mm, middle plate: 12mm, lower plate: 20mm, material: Q345B steel.
Bottom plate: 5mm thick square plate
Ramps: Spring ramps
Gooseneck: optional
ABS: optional
Valve: WABCO Valve
Light source: LED lights (for overseas markets only)