3 axle bulk cement hauler trailer
What
is bulk cement trailer?
Bulk cement trailers are also called cement trailers, cement tankers, and pneumatic trailers. It is generally used to transport bulk goods such as cement, flour, lime powder, mineral powder, fly ash and other powdery materials with a diameter of ≤0.01mm. Bulk cement trailers are generally widely used in large construction sites, cement plants, warehouses, etc. Bulk cement trailers generally use an air compressor to ensure that the powder comes out of the tank.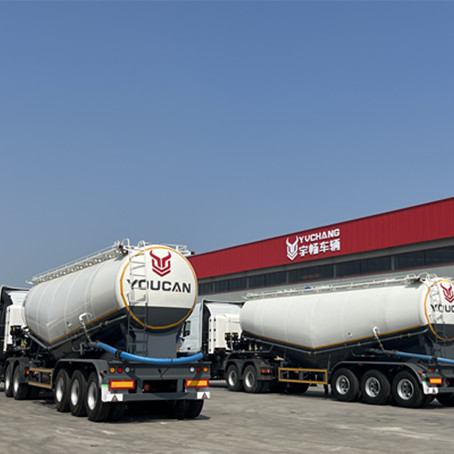 Product Description:
YOUCAN Bulk cement transport trailer designed for portable cement plants to transport cement, flour, powder, alkali, ash, alumina and other different bulk items.
Bulk cement transport semi trailer volume can be customized. We offer a wide range of cement trailers in different sizes and capacities with diesel engines and air compressors.
Specification:
Tank material :5mm high strength wear-resistant steel
Payload :36T-50T
Axis :3 axes
Tire: Unit 12
Application: Conveying lime, cement, powder, etc.
Tank thickness :3.5mm
Compressor :12m³ double cylinder air compressor
Spare tire rack :2
Leaf spring :10 pieces
Sprinkler head :1 sprinkler head; Car waxing
Diesel engine: Weichai brand
Compressor: Bohai Sea
Suspension: Heavy machinery suspension
Landing gear :JOST
Braking system :WABCO
Lamp :LED lamp (overseas special)
24 v voltage:
Toolbox :1 set
Coating: polyurethane coating, long service life, avoid vehicle rust
Advantages:
1.YOUCAN dry bulk cement tank trailer, using high strength wear-resistant steel. To build the most durable tankers for the African market with road conditions in mind.
2. YOUCAN adopts advanced machines to ensure high quality welds, long service life and good appearance of the tank.
3. After completion of production, all YOUCAN cement tankers will undergo pressure test and metal inspection test to ensure that our cement tankers have good tightness.
4. There are 10 airbags in the tank (the others only have 6 or 8).
5. YOUCAN vehicles use the world famous brand Weichai 4102 diesel engine, so that the air compressor can work better and the exhaust speed can reach 1.6 tons/min.