Cement Bulker Specification and Weight
What
is bulk cement trailer?
Bulk cement trailers are also called cement trailers, cement tankers, and pneumatic trailers. It is generally used to transport bulk goods such as cement, flour, lime powder, mineral powder, fly ash and other powdery materials with a diameter of ≤0.01mm. Bulk cement trailers are generally widely used in large construction sites, cement plants, warehouses, etc. Bulk cement trailers generally use an air compressor to ensure that the powder comes out of the tank.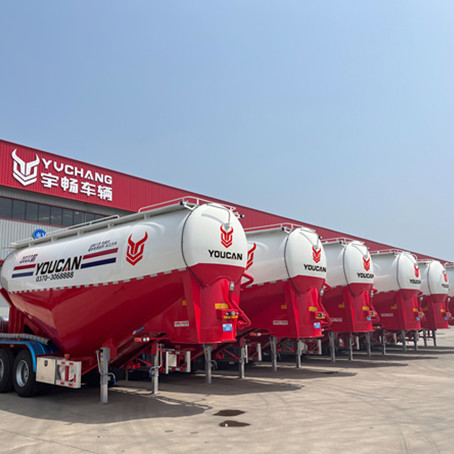 Features of Bulk Cement Trailer
Basic structure of cement tanker: 1. Operating system 2. Power system: Engine: The engine unit provides power for the air compressor; PTO: The main function is to take out the power of the engine and transmit it to the air compressor through the drive shaft. 3. Air compressor 4. Air pipe: including air intake, air distribution, pressure relief, secondary air blowing, etc. 5. Tank: A sealed container for filling. 6. Loading and unloading device: The charging tank can be connected with the pipeline of the storage tower, controlled by a butterfly valve, and used for conveying materials. Three Structures of Powder Material Transporter The powder material transporter cement bulk trailer has the characteristics of novel, reasonable and durable design, which can effectively shorten the unloading time and improve the utilization rate of tank volume. Today, the powder material transport semi-trailer manufacturer will introduce the three structural characteristics of the powder material transport vehicle in detail.
Youcan supply 20-100cbm 25-120 tons cement bulk trailer for sale. We can customize according to your needs.
The cement bulk carrier is used to transport cement, flour, lime powder, mineral powder, fly ash and other powdery materials with a diameter of ≤0.01mm in bulk.
25-120 tons of cement tanker for sale
Cement Bulk Carrier Specifications
Model: Youcan V-type cement bulk truck
Cement bulk carrier capacity:
25/30/35/40/45/50/55/60/70/85/120 tons.
Cement bulk carrier volume:
20/25/30/35/40/45/50/55/60/70/100 cbm/m3
Cement bulk carrier size:
7350-14500*2550*3900-4000mm
Engine: Weichai Deutz diesel engine
Compressor: SK 12m3
Manhole cover: 2-4 sets of diameter 700mm
Drain valve: 4″ disc valve
Tank material: 5mm or 6mm high-strength steel
Structure: Q370 high straight steel
Landing gear: JOST 28T
Suspension: mechanical suspension or air suspension
Braking system: T70/70 air chamber, WABCO emergency valve
Bulk trailer axles: 1 to 4 sets, 13, 16, 20 ton axles, BPW or SAF
Tires: 12R22.5, 385/65R22.5, 13R22.5, 12.00R24, 315/80R22.5
Kingpin: JOST 2″or 3.5 detachable
Cement bulk cargo machine accessories: brand-name engines, axles, tires, waterproof steel wires, pipelines, valves, air release valves, inner airbags, landing gear, water spray devices, side guards and tool boxes, manhole covers, cement bulk cargo Machine blower, cement bulk cargo machine hose.
Ordinary cement bulk carrier size
25CBM 30 tons cement bulk carrier size: 7350*2500*3900mm
35M3 40 tons Size: 8500*2500*3900mm
40CBM 50 tons Size: 10500*2500*3950mm
50CBM 60 tons Size: 11500*2500*3950mm
cement tanker height
The height of cement bulk carrier is 3900-4000mm. This is determined by capacity.
Breadth of cement bulk carrier
Most cement trailers have a width of 2500mm.
cement bulk carrier weight
Youcan Cement Bulk Carriers weigh (empty) 6,500 Kg – 9,000 Kg. If you need lighter weight, it is recommended that you choose an aluminum cement bulk carrier.
Bulk cement Trailer Manufacturer
Youcan trailer is a professional semi-trailer manufacturer founded in the year 1999. The company provides tank trailers, bulk cement semi-trailers, tipper semi-trailers, stake storage semi-trailers, flatbed semi-trailers, low-bed semi-trailers, container carrier trailers, cargo semi-trailers, and other hundreds of products.