Tips on How to Buy a Flatbed Trailer
If you are ready for new business opportunities, you should buy a flatbed trailer. A flatbed trailer is an open transport vehicle for oversized cargo. They come in a variety of sizes, shapes and special features to safely move your cargo.
By purchasing the right flatbed trailer for your business, you can increase productivity, reduce lengthy pickup and delivery times, improve safety, and make it easier for your drivers to handle loads.
Follow this trailer buying guide to learn what a flatbed trailer is for and why you should buy a flatbed trailer for your fleet.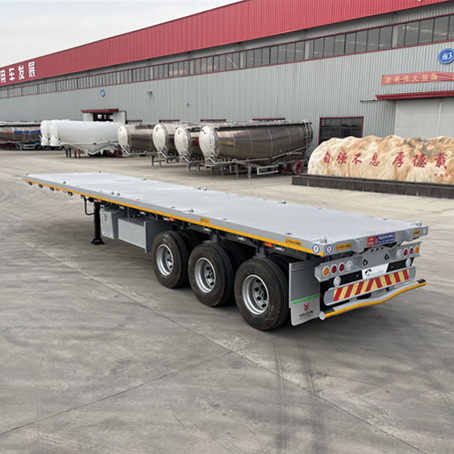 What is a flatbed trailer used for?
To determine if you should buy a flatbed trailer, you need to know what it is used for.
Flatbed trailers are the workhorse of the trucking industry. They are designed to haul cargo that cannot be loaded onto a standard trailer such as a semi-trailer.
They are used to haul a variety of cargo and come in handy in many situations, such as transporting heavy machinery or transporting irregular equipment.
Flatbed trailers have no side walls or roof and are usually low to the ground. This makes it easier to load items onto the trailer for efficient delivery.
What are curtain side trailers used for?
A curtain side trailer is a combination dry van and flatbed trailer. It loads like a flatbed, but is protected by a closed frame like a dry van.
Curtain trailers let you tow anything from pipes to steel. When enclosed, the trailer also allows you to move items like fruit and vegetables.
If you're deciding between a dry van or a flatbed trailer, consider whether you need covered protection for your cargo. If so, buying a trailer like the Curtain Side is a logical choice.
Types of Flatbed Trailers
Flatbed trailers are one of the most popular vehicles in the trucking industry and there are many different types to choose from. Common slab types include:
Aluminum flatbed
Aluminum flatbed trailers are usually the lightest option since they are lighter than steel or composite trailers. They are entirely made of aluminum, from the beams and side rails to the floor.
These trailers are more expensive than composite and steel trailers, but they have a higher market value. Aluminum flatbed trailers are designed with arches (arches) that allow the beams to level as weight is added since they bend more easily than steel.
Composite plate
Composite flatbeds cost less than aluminum trailers and slightly more than steel trailers due to the materials used in their construction: steel beams, aluminum floor and aluminum side rails.
The weight combination of aluminum makes for a lighter trailer, but the strength of the steel beams is a solid foundation.
Steel flatbed
Steel flatbed trucks are entirely made of steel from the beams and side rails to the hanger. This is why they are heavier than aluminum trailers.
They're a lower upfront cost investment, but they also have a lower resale value. This is a trailer designed for the long haul and is a great work trailer.
How much does a flatbed trailer cost?
Youcan Trailer is a professional semi-trailer manufacturer founded in the year 1999. The company provides tank trailers, bulk cement semi-trailers, Tipper semi-trailers, stake storage semi-trailers, flatbed semi-trailers, low-bed semi-trailers, container carrier trailers, cargo semi-trailers, and other hundreds of products.If you are interested in buying a Container Chassis for you project, feel free to send an inquiry.