What is a Lowbed Trailer
What is a Lowbed Trailer?
A common question many ask is, "What is a Lowbed truck?"This is a type of trailer that you've probably seen hauling construction equipment and industrial machines. They are one of the most adaptable as a semi-trailer with a drop-neck.
The maximum weight of a two-axle Lowbed trailer is 40,000 pounds. However, it can be increased to 80,000 pounds depending on the number of axles. For example, 25-ton Lowbed trailer can transport more than 50,000 pounds, but a 35-ton trailer can transport more than 70,000 pounds.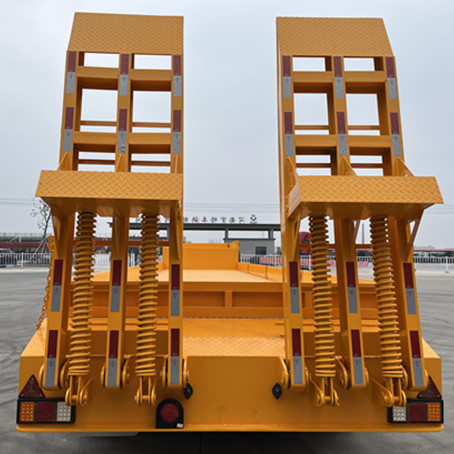 What are Lowbed Trailers Used For?
Lowbed trailers are frequently utilized to transport heavy or oversize items. Lowbed trailers are ideal for transporting bulldozers, cars, and other large equipment or freight. Basically, anything that won't fit on a flatbed or single-drop trailer. Because Lowbed trailers are used to transport such huge and oversized cargo, extra safety precautions must be followed when operating them.
The Importance of Lowbed Trailers in the Transportation Industry
Lowbed trailers are a perfect solution for tall or oversized freight. In other words, Lowbed trucks provide trustworthy businesses with another option for better serving customers. When big or heavy freight needs to be shipped, the Lowbed trailers apart of your fleet can assist.
The main purpose of a Lowbed is to make it easier for drivers to load and unload their cargo. Lowbeds offer more stability while you're loading it up so that there is less risk of tipping over while you work on getting everything ready for transport.
Pros and Cons of Using a Lowbed Trailer
While we've briefly discussed some of the types of Lowbeds and their functions, there are countless other reasons to consider using a Lowbed trailer for your next haul.
Advantages
Advantages of Lowbed trailers include:
Stability: By their lower center of gravity, Lowbed trailers are more stable than other trailers. This is because they used to moving equipment without violating height limitations.
Versatile: Low-bed trailers have a wide range of applications. The low-bed semi-trailer was originally designed to transport the heaviest weight without violating safety standards or placing the driver or cargo in danger.
Longevity: These trailers are very durable and designed to last for many years without needing any major repairs or maintenance work done on them regularly. Some other types, depending on what they are made out of, need more repairs so they don't break down while driving or while loading/unloading the trailer.
Disadvantages
Disadvantages of Lowbed trailers include:
Investment Cost: The initial investment of buying a Lowbed can be a lot upfront, even used Lowbeds. The routine maintenance may be far between but they are costly.
Freight Limitations: Due to weather conditions, a Lowbed may not be best to ships electronics, home furnishing, or perishable items. There may also be a need to keep the temperature of the cargo regulated which you don't get with a Lowbed.
Skill Difficulty: Transporting big loads necessitates special handling and hauling abilities. Even securing the load can be hazardous when connecting straps and chains onto the load.