What is a Container Chassis
What is a Container Chassis?

Container Chassis is called Container Chassis, semi- Container Chassis. Container Chassis is used to transport ISO tanks, ISO containers, reefer containers. The container transport trailer is a type of Container Chassis, and the other is a platform trailer.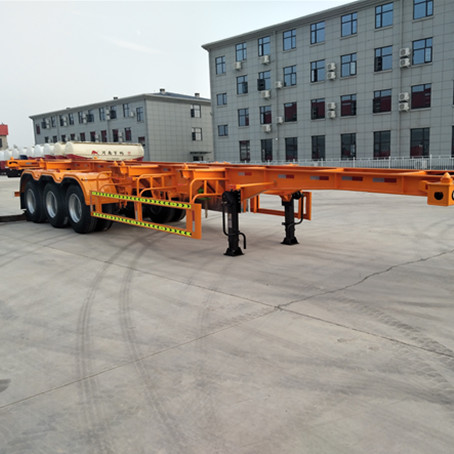 detail
The Container Chassis is welded by longitudinal beams, cross beams, and front and rear beams. The size is 450, 500, the beam is stamped into a groove shape with high-quality steel, and the front and rear beams are welded with rectangular sections.
An integrated long beam is arranged at the middle container locking device to improve the bearing capacity of the container locking device.
The difference between a Container Chassis and a flatbed trailer
The difference between a flatbed trailer and a Container Chassis is that the flatbed trailer adds a frame and a patterned floor. The whole frame is assembled and welded on a special positioning platform, with reasonable structure, high strength and beautiful appearance.
There is a container tensioning device on the frame, which can load two standard containers of 40 feet and 20 feet. The four container fastening devices at the front and rear are fixed structures, and the container fastening device in the middle is a hidden structure.
loading container
When loading containers, the intermediate container locking device can be lowered below the level of the cargo bed as required. The mechanical bearing device is selected, mainly including 12t and 20t of factory-equipped shafts; 13t of Fuwa; Yost; and other types.
Its role is to support the ground when the towing unit is disengaged from the trailer and to bear the front load of the semi-trailer.
There are two types of support device: single-action and linkage, mainly composed of support plate, screw drive mechanism, reducer, operating handle and so on.
pause
There are two types of suspension: mechanical suspension and air suspension. Air suspension is mainly used in places with poor road conditions, and the price is relatively expensive.
How much do Container Chassiss cost?
Youcan Trailer is a professional semi-trailer manufacturer founded in the year 1999. The company provides tank trailers, bulk cement semi-trailers, Tipper semi-trailers, stake storage semi-trailers, flatbed semi-trailers, low-bed semi-trailers, container carrier trailers, cargo semi-trailers, and other hundreds of products.If you are interested in buying a Container Chassis for you project, feel free to send an inquiry.